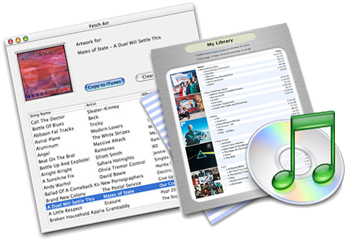 Sometimes I cannot help but wonder whether Apple is ahead of its time or simply too ambitious? If anyone has downloadediTunes 4.0 or higher, you'd quickly realise (or not) the built-in ability to display album artwork covers within iTunes and also in the Visualizer mode. But the biggest question is…"how do I get my album artwork into iTunes in the first place?"
After hours spent pouring over the Internet(hours of my life I will never get back, mind you), several methods and two applications are all I have to show for my efforts.
Album artwork is an integral part of the mp3 file but most commercially available music CDs do not contain the album artwork. Especially if you rip the songs from their original format into mp3's for your iTunes collection. Here are the three most common methods to get album artwork for your tunes:
buy all your music online through the iTunes Music Store
scour the Internet, eg Amazon.com, for album cover art or;
use an application that will automate the process for you
I'm betting that not many people got out of their seats for the first two options. Especially, if you already have a hefty CD collection that you want to port around on your iPod.
Internet searches containing the keywords, "iTunes" and "artwork" will yield either application:
Fetch Art by Yoel Inbar or;
iTunes Catalog by Kavasoft
Both use similar technology to analyse the songs already contained within your iTunes library to scour the Internet for the related album art. The main difference is that Fetch Art is freeware whilst iTunes Catalog comes at a price, USD$9.99 for a full version. Downloading a demo version of iTunes Catalog will get you through the alphabet from A-E after which you need to register the product to continue.
iTunes Catalog comes chocked full of features, from automated album art retrieval to export functions. Exporting your playlists into a HTML webpage, plain text, PDF or XML file, just to name the few. Kavasoft also provides iTunes Catalog buyers with a list of FAQs and email support. A good package if you're willing to fork out the dosh.
Otherwise, Fetch Art, is a single-minded application with a simple interface designed solely to collate the tunes in your iTunes library, scour the Internet for the related album art and return the results for your perusal. The actual copying of the album art into every song in your iTunes library is manual and tedious.
At press time, I was unable to reach Yoel Inbar for comment as the pointer to the developer's site ended in a HTTP 404 error and a blank page. Nevertheless, we have endeavoured to share Yoel's excellent contribution here at Macriot.
Download: