For the active, H20 Audio has come up with a water-tight casing for your iPod that is submersible up to 10ft/3m. The only issue you'll have with this cool new iPod accessory is the fear of sharks coming up behind you unnoticed or surfacing to the whirring of a boat's propeller. Otherwise, its a great add-on for the active person's iPod arsenal. Yes, even the ear phones are water-proof.
Currently, H20 makes water-tight casings for all the generation of iPods except the Shuffle. Added to that you also have the option to purchase a complimentary armband or swimbelt.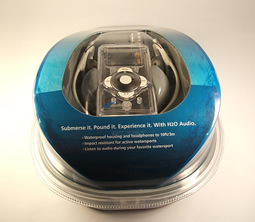 Its great for surfing, wake boarding, snow boarding and quite possibly diving(?).
For more information, check it out at H20 Audio's site.