If you've received or bought a Mac that is accompanied by a full version of Mac OS X 10.x's restore DVD then it should come with an OS 9 Classic install package contained therein. The use of OS 9 Classic becomes important if you're a parent shopping around for Mac games for your children. Most of which still come only in OS 9 versions. Otherwise, you could be an OS 9 user who still has OS 9 applications you wish to continue using. It never hurts to have OS 9 Classic installed as most multimedia music CDs which are multi-platform friendly are usually only OS 9 Quicktime friendly.
But what happens when you don't have the OS 9 Classic installation package and you need to install OS 9 Classic onto your Mac? It can be a troublesome process riddled with obstacles but here's a quick fix.
What you'll need if you do not have a copy(some Macs were issued with only Mac OS X 10.x upgrade versions that do not contain OS 9 Classic installation packages) of the OS 9 Classic installation package as part of your Mac kit is access to a Mac that already has OS 9 Classic installed on it.
Within this Mac's hard drive's root folder, there should exist two files relating to OS 9 Classic:
System Folder;
Applications(Mac OS 9)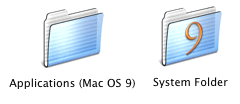 You'll need to copy these two folders from the Mac to your Mac's hard drive root folder. If you're unclear precisely what location to copy the files to, use the OS 9 Classic installed Mac as a reference. Mirror its files' location.
Once this is completed, access your Mac's System Preferences by clicking on the Apple logo on the top left of your Mac's screen. Access the OS 9 Classic pane within your System Preferences.
You next need to set the System Folder for your OS 9 Classic to refer to. Direct your Mac to the System Folder that you copied into the root directory of your Mac.
If you have completed all the above tasks correctly you should be able to start OS 9 Classic from within your OS 9 Classic preference pane of your Mac's System Preferences. Additionally, you may also set it so that an OS 9 Classic icon is always displayed on your Mac's menubar making starting, stopping and monitoring OS 9 Classic's activity a one-glance affair.