CUPERTINO, California, 05 April 2006 – Apple has released Boot Camp Public Beta (an 82.9MB download), allowing Intel-based Mac owners to configure their Macs to support both Mac OS X and Windows partitions on a single hard drive. Giving them the ability to run Windows natively on their Intel-based Macs!
In an unprecented move, Apple has launched the first salvo into the Windows hardware race. Windows users can now opt to run an operating system their used to on Mac hardware. To Mac loyalists everywhere; this can only be seen as opening Pandora's Box to the possible ramifications.
However, to the observant, it can also be interpreted as a 'give a little, get a little' ploy. Marketing, which has always been Apple's strong point, appears to have evolved away from using just the Apple iPod as its evangelistic tool. Now encompassing an entire line of Intel-based Macs to spread the word of Apple's superiority over the Microsoft giant.
The Cupertino think tank may have hit the nail on the head this time. By making the Apple sweeter. Imagine being able to purchase a single computer that comes decked with all the bells and whistles, encased in revolutionary industrial design. That can live and play your digital life by night, as well as carry out the mundane work tasks where we live trapped in a mostly Windows-based world, by day.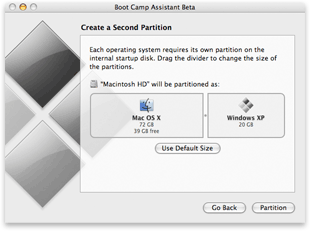 The idea in itself, sends tingles down one's spine. "Has Apple finally produced the answer to the David vs Goliath conundrum?""
With the innovation of Boot Camp, and the possibilities that may come with the incarnation of Apple's next operating system, Mac OS X 10.5 Leopard, there's little impetus left to purchase the archaic PowerPC platform. Aside from the glitches often related with the introduction of a new product, that is, but that will even out with time. With this thought, it is more than likely that Apple will discontinue production of the PowerPC platform some time mid-2007. Although, Mac Riot had planned to write a 15″ PowerBook G4 vs 15″ MacBook Pro shootout some weeks before, this latest development leaves little justification for the effort it entails.
The new conundrum that the next generation Mac users will now face would be the availability of hard disk space to accomodate for both operating systems and also third party driver support for Windows running atop of Mac hardware.
At press time, the largest commercially available portable hard drive topped out at 120GB capacity. Only time will tell, if the storage manufacturers can come upn with a solution that will keep abreast with this latest development in the operating system and hardware race.
As for third party driver support, its predicted that more traditional Windows-based peripherals makers, will quickly move into the Intel-based Mac market. Touting new wares and driver support for the Mac hybrid platform.
Enterprise and business computing has always been an arena that has eluded Apple for many years. Boot Camp may signal the compromise that will allow Apple, to finally beat a path into the corporate market. If not the Mac operating system, at least the hardware.
Mr Jobs, appears to have offered a solution that most would never conceive and Apple seems set to be the incumbent market leader in computing. Whatever it takes…