In July 2000, Apple introduced the Apple Studio Display (17-inch ADC) which shipped in a clear acryl-case. Featuring the now defunct, ADC (Apple Display Connector), which carried data, USB and power in a single cable. It was a breakthrough in the display case paradigm of the time and until today, remains one of the most aesthetically pleasing CRT monitors money can buy. Added to that, it also displays amazingly crisp and clear images and colours, so Apple once again made something that looked delicious and worked as well. Very sadly, this was to be the last CRT display that Apple produced.
However, that was then. Today, before you run out and decide to purchase an older Apple Studio Display (17-inch ADC) there are a few points to note: (a) its probably quite affordable now (b) it looks good (c) it features Mitsubishi Diamondtron picture tube technology and; (d) it was the de facto standard for the graphics industry at the time.
So,… it all sounds great doesn't it? Like, we all should run out and hunt one down right after reading this… but, (yes, there's always a but when something sounds too good to be true).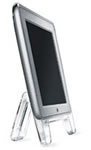 During the same time, Apple also launched an LCD version of the Apple Studio Display, sporting, what appeared to be the same, ADC cable. However, unknown to most, there is a grave technical difference between the two displays which determines its compatibility to certain Macs.
The LCD Apple Studio Display was built primarily to accept DVI video input, which is a digital video signal but alternatively it can also accept analog video signals, with the aid of an Apple DVI to ADC display adapter kit. Although sporting the similar ADC cable, the Apple Studio Display (17-inch ADC) however, can only accept analog video input.
Translated to non-geek-human-speak, this means that the Apple Studio Display (17-inch ADC) can only be used in conjunction with a Mac system that comes equipped with an ADC video output that is pushing out analog video signals. Today, this puts a severe restriction* on the Mac systems that it will be compatible with. In general the only Macs that can be used with this display today are:
PowerMac G4 with ADC or;
PowerMac G4 Cube with ADC

Whereas the LCD version, despite its ADC connector, can be used with digital video inputs thus opening the possibility to almost every conventional Mac system in existence up till press time. The only other piece of equipment necessary is an Apple DVI to ADC display adapter kit. Although, there are a variety of aftermarketADC to VGA cables or ADC to VGA cables available in the market, that seems to suggest that you can potentially hook up your Apple Studio Display (17-inch ADC) to a standard VGA (analog) video output, you'd be hardpressed to find one with the correct male/female connectors that will allow you to do so. Most of these cables are aimed at facilitating a Mac system equipped with an ADC output to be hooked up to a VGA display. Not an ADC equipped Apple Studio Display (17-inch ADC) to a VGA input.
*An alternative is to change the graphics card of your existing PowerMac system, eg. to an ATI Radeon X800 XT Mac Edition, featuring workstation-class dual digital display connections (one Dual Link DVI and one ADC port), the Radeon X800 XT supports a single 30-inch Apple Cinema Display (2560 x 1600 resolution) as well as any legacy Apple Digital Display. Both of these ports may also be used to connect standard VGA-type analog displays with the use of adapters (one DVI-to-VGA adapter included).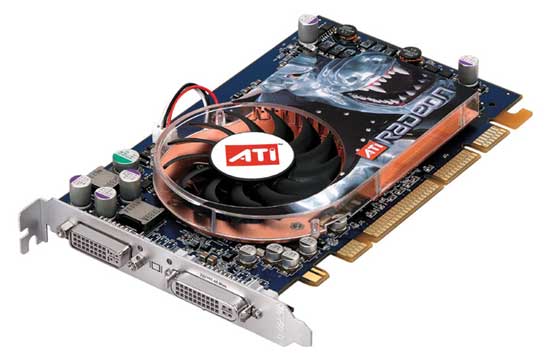 Other graphic cards to consider include the following:
ATI Rage 16MB 128 Pro 16MB Video Card (VGA/ADC) (AGP) w/Cube Bracket
ATI Rage 128 Pro 16MB Video Card (ADC/VGA)(AGP)
ATI Rage 6 32Mb Video Card VGA/ADC (AGP)
RADEON™ 7500 32MB G4 & Cube VGA/ADC(AGP)
Radeon 9000 64MB ADC/DVI Card (AGP)
Radeon 9600 Pro 64MB DDR Memory (8X AGP) ATI Mac Edition DVI/ADC for G5 Computers (AGP)
Radeon 9600 Pro 64MB DDR Memory (8X AGP) ATI Mac Edition DVI/ADC for G5 Computers
Radeon 9700 Mac Edition 128MB (DVI/ADC) AGP
ATI Radeon 9800 64MB ADC/DVI for G5 Computers (AGP)
Radeon 9800 Pro 128 MB ADC/DVI for G5 Machines (AGP) with Fan
NVIDIA GForce3 64Mb VGA/ADC Video Card (AGP)
NVIDIA G4 Force 2MX 32MB Video Card VGA/ADC (AGP)
NVIDIA G4Force4 32MB Video Card (ADC/DVI) (AGP)
NVIDIA G4Force4MX 64MB Video Card (ADC/DVI)(AGP)
Nvidia GeForce4 Ti4600 128MB DDR Memory (ADC/DVI) w/FREE VGA Adapter (AGP)
GeForce2 MX Twin View 64MB ADC/VGA (AGP)
NVIDIA 64MB GeForce FX 5200 ADC/DVI for G5 Computers (AGP)
Bearing in mind however, at all times, that the above mentioned graphics are not easily available today. You will most likely find them in online Mac specialty stores and less on shelves in brick and mortar establishments.
The Apple Studio Display (17-inch ADC),… a wonderful CRT creation until today. Its a shame that it comes with an ADC cable that only supports analog video input without DVI video input. Its an Apple legacy creation that still dilates our pupils and produces an involuntary grin whenever we see one.
..,one more thing. If you already have one and somehow procured another and you're thinking of creating a dual display set up using the two displays. Your predicament becomes even more complicated because you must find a Mac version AGP graphics card that supports two ADC video outputs. We'll save you some effort… don't bother looking for an add-on Mac version PCI graphics card, it'd be looking for a unicorn – it doesn't exist.