Apple has always been on the frontier of consumer electronics. Being one of the first to introduce IEEE 802.11g WiFi protocol in their consumer electronics line. Or popularly known as the Airport Extreme form factor, which represented a major advancement in its day, boasting a 54Mbps transfer rate over the earlier IEEE 802.11b standard, or Airportform factor, which topped out at a mere 11Mbps.
Lately, Apple has been at it again. Unknown to most, the latest range of Intel Core 2 Duo Macs come equipped with the ground breaking IEEE 802.11n format which promises to deliver a WiFi bandwidth that comes close to the traditional 100Mbps wired Ethernet networks that we are already so accustomed to seeing in our offices.
See the Inside Mac images of the latest IEEE 802.11n ready Airport Extreme cards inside!
Ever since Apple stopped producing Mac systems with WiFi as an optional component, instead making the feature a built-in asset, the actual built-in Airport Extreme module looked this: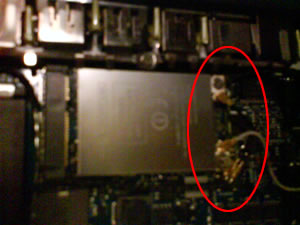 Note in Diagram above, the Airport Extreme module sports 2 antennae wires whilst, the latest incarnation of a similar Airport Extreme module in the current line up of Intel Core 2 Duo Macs sport 3 antennae wires, one of which is purports to support the upcoming IEEE 802.11n standard (see Diagram below).
To the WiFi uninitiated, you're probably reading this article and wondering how this, if at all, affects your way of life. Well, lets put it things into perspective…
The upcoming IEEE 802.11n standard purports to propel WiFi bandwidth up to four times what it currently is. Which translates to better streaming content and the possibility of being able to house all your favourite movie media in your computer whilst being able to transmit it wirelessly to your television set. Minus the lag, skipping or snap, crackles and pops.
Apple makes no qualms about unveiling its intentions to come into our living rooms with the sneak peek of its upcoming iTV WiFi companion to the ever popular Airport Express which currently allows you to play your iTunes music wirelessly to your home entertainment equipment or any other audio device that it may be connected to at the time. iTV purports to break new ground into streaming movie content, chiefly to give iTunes Music Store regulars a greater reason to purchase movies online.
Unlike the Hollywood made famous, TiVo, iTunes Music Store boasts the ability to get your movies on demand, instead of having to wait for it to actually be aired and recorded. Match that with iTV and Apple may have a 'TiVo killer' on its hands. Once again, changing the face of yet another market segment that Apple doesn't traditionally play in.
On that point, its interesting to note that Apple started business building computers but soon after, it majored in building a kick ass operating system, complemented with similar kick ass applications.
Then Apple took the world by storm by going into music with the iPod and the iTunes Music Store. Movies naturally followed, with the introduction of the iPod Video and now portable iPod games as well.
It won't surprise us one bit, when Apple finally does release its own Apple cell phone, instead of its whimsical experiment with Motorola which failed to amass the market response that it was hyped up to be. If Apple does release its own cell phone, its our prediction that it will most likely be a WiFi-enabled VOIP cell phone similar to the Skype cell phone that's recently hit the telecommunications market. When that happens, remember – you heard it here first!