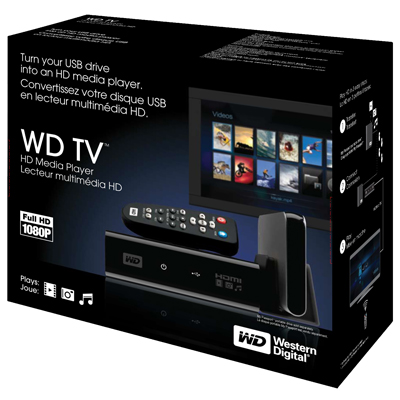 Sorry Steve but Western Digital appears to have a creditable candidate to put a serious dent in the AppleTV's value proposition. Check out the latest offering from Western Digital, the WD TV!
Whilst AppleTV is probably great for consumers who would like to purchase a movie on demand through iTunes, its restriction to being able to only play mpeg4 and MOV files, plus the need to interface with iTunes makes it a lack lustre device for someone who already has videos in a variety of formats, e.g. AVI or WMV.
WD TV on the other hand is strictly a 'plug and play' solution that (we have to say) is virtually 'idiot-proof'. All you need to do after bringing it home is to plug it into the power and using a HDMI or the supplied RCA cables attach it to your TV. The next part is where the magic really begins to unfold.
All that's needed is any USB hard drive containing either movies, music or even images that can be read by the WD TV. Plug the hard drive into the WD TV and viola! The WD TV, regardless of file structure contained in your hard drive, is able to search and identify all of your playable media to be presented in either a list or thumbnail view on your TV – instantly!
Although we initially braced ourselves for average to poor image quality; the 1080p HD quality blew us away!
Coming in at only USD$129.99 compared to AppleTV at USD$229.00 the WD TV we seriously recommend the WD TV as a MUST GET (!) item for 2009!
Specifications include:
Music – MP3, WMA, OGG, WAV/PCM/LPCM, AAC, FLAC, Dolby Digital, AIF/AIFF, MKA
Photo – JPEG, GIF, TIF/TIFF, BMP, PNG
Video -MPEG1/2/4, WMV9, AVI (MPEG4, Xvid, AVC), H.264, MKV, MOV (MPEG4, H.264), MTS, TP, TS
Playlist – PLS, M3U, WPL
Subtitle -SRT (UTF-8), SMI, SUB, ASS, SSA
Note:
MPEG2/4, H.264, and WMV9 supports up to 1920x1080p 24fps, 1920x1080i 30fps, 1280x720p 60fps resolution
An audio receiver is required for surround sound output. AAC/Dolby Digital decodes in 2 channel output only
JPEG does not support CMYK or loss less.
BMP supports uncompressed format only.
TIF/TIFF supports single layer only.
File Formats Not Supported
Does not support protected premium content such as movies or music from the iTunes® Store, Cinema Now, Movielink®, Amazon Unbox™, and Vongo®
External Drive Formats Supported
FAT32, NTFS, HFS+ (no journaling)
Performance Specifications
Serial Transfer Rate USB 2.0
Serial Bus Transfer Rate (USB 2.0) 480 Mb/s (Max)