A whole world of Mac users owe a debt of gratitude to Stéphane Sudre for SaveHollywood which is a nifty add-on that has been the de facto freeware movie screensaver for Mac OS X for years. SaveHollywood represented a quick and easy means to be able to select movies or even Flash movies from locations in your hard drive to be played as a screensaver with or without audio without any muss or fussing about with XCode's Quartz Composer.
Not only did SaveHollywood facilitate creating a playlist of movies to run as your screensaver, if your Mac was wired up to more than a single display, SaveHollywood included a feature which allowed users to choose not to display the screensaver on both displays but only one of them if desired.
However, for SaveHollywood fans this unfortunately came to an abrupt end since Apple rolled out Mac OS 10.6, where  Stéphane Sudre decided that in the course of so doing Apple 'broke something' which  Stéphane Sudre wasn't apparently willing to workaround.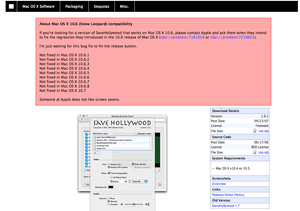 Well, good news for SaveHollywood fans!  Stéphane Sudre has finally picked up where version 1.9.1 left off and we now see the latest version 2.0 which is compatible with Mac OS 10.8 and later.
We are pleased to share that SaveHollywood version 2.0 is back with a vengeance sporting the same features of its predecessors, with a similar GUI.
Once again hats off to Stéphane Sudre for your generousity and invaluable contribution to the global Mac community!