Most every Apple related web page in the universe is reporting that Apple has released its latest iTunes 11.1.5 update today to cure a nasty bug that could cause iTunes to crash when connected to iOS devices. iTunes 11.1.5 also also addresses compatibility issues with iBooks.
Mac aficionados who are still resisting the 'Mavericks Syndrome'*  will appreciate the good news, atop of this news.
We have verified that downloading and installing iTunes 11.1.5 does not deprive Mac OS 10.8 Mountain Lion users from being able to perform local USB syncs between iTunes and their iOS devices.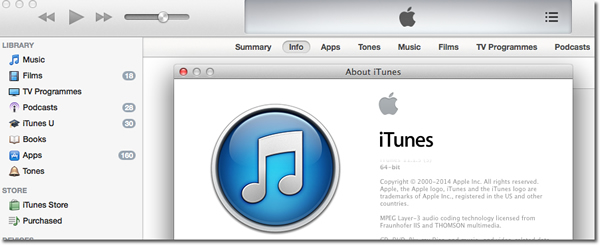 This, unfortunately, is not the same case for Mac OS 10.9 Mavericks users. They are still forced to sync Contacts and Calendars through iCloud.
* Ever since Mac OS 10.9 Mavericks, Apple has removed USB sync services from the Mac OS operating system architecture. Resulting in the permanent loss of the ability to perform local USB sync for Contacts and Calendars between iTunes and iOS devices – forcing iOS device users to sync through iCloud.