Yes! You read right. Modifier Keys for Hot Corners!!
Modifier Keys for Hot Corners can be extremely useful to suppress unwanted, accidental triggering of enabled Hot Corners in OS X.
Firstly, for the uninitiated Hot Corners are like their namesake, the four corners of your screen which can be configured to trigger a preset function when you place your mouse over each particular corner.
The Hot Corner control panel can be found nestled in System Preferences > Mission Control.
Traditionally users simply select the corner they want to enable a Hot Corner function and as long as the mouse hovered over that particular corner the selected preset Hot Corner function would be triggered.
This can be annoying, particularly if you want to use the two upper corners of your screen but prefer not to 'quarrel' with Hot Corners every time you attempt to click the Apple Logo on the top left or Notifications on the top right.
Well here's one solution.
Modifier keys, i.e. CMD, ALT/OPTION, CTRL and Shift, can actually be used in conjunction with the Hot Corner setup.
That is to say, you can either choose to hold down one or a combination of Modifier Keys when you click on any corner in the Hot Corners setup pane and OS X will add the Modifier Key/s as part of the triggering mechanism for all Hot Corners.
In the example below, you see that we have added Shift + CMD to our Hot Corners trigger: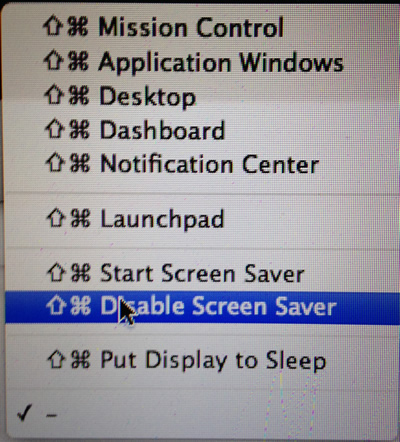 This means that now, we have to hold down Shift+CMD whilst moving the mouse over to the enabled Hot Corner before the enabled Hot Corner function is triggered.
This 'hidden  feature' is great to avoid having to constantly switch Hot Corners on and off for certain games that do not cater to automatically disabling Hot Corner functions in OS X.
It gets old quickly when you're playing a game in fullscreen and suddenly, e.g. a Hot Corner enabled for Desktop is triggered and OS X pushes your fullscreen game out of the way to show you your Desktop when you're in the thick of your game!