Ever wonder what Time Machine is doing whilst you wait?
On a standard OS X system the best you can do is enable Show Time Machine in menu bar (System Preferences > Time Machine) which displays a Time Machine icon in your menu bar which upon clicking provides minimal details during Time Machine backups, e.g. backing up "XY MB of XX MB"… or "Cleaning up".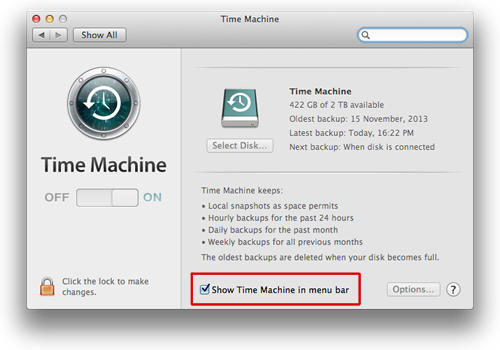 Which. Doesn't really say much. Especially "Cleaning up" which usually feels like forever.
There is actually a way to see what Time Machine is doing, whilst its doing it. Well, actually there is A way and then there are several widgets or apps that make it easier to accomplish.
In essence everything that occurs in OS X is logged in log files. Most average users live their entire Mac lives never peering at these logs but they are there.
The Geek Way To View Time Machine Logs
To access Time Machine OS X logs:
launch the Console application (/Applications/Utilities/Console.app)
enter "backupd" in the search bar of the Console application
Console will then filter all entries bearing "backupd" which essentially displays all actions performed or being performed by Time Machine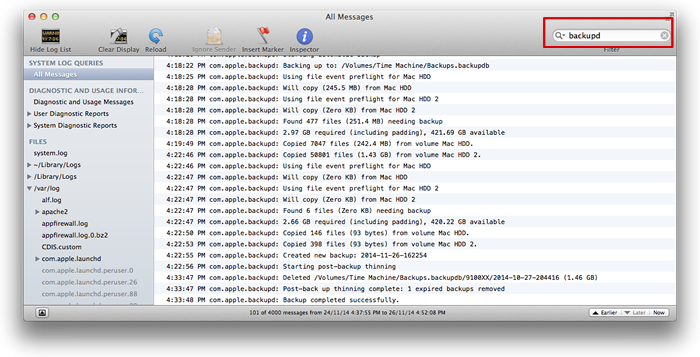 The Less Geek Way To View Time Machine Logs 
download and install The Time Machine Buddy widget by Bluedog Technologies, Australia; this places a widget in your OS X that extracts the relevant Time Machine logs and displays it within a widget interface – free at time of writing
download and install LogViewer for Time Machine application from Critical Spark – USD2.00 at time of writing
Whichever way you find most suitable for you to appease your curiosity on just what Time Machine is doing – you decide.