Boot Camp 5.1 now support Windows 8 and Windows 8.1. Unfortunately installation some times is not as straight forward as it should be.
This article is dedicated to dealing with the nasty frustrating GPT error encountered during the actual Windows 8/8.1 Boot Camp installation.
You've done everything according to the Apple Boot Camp Windows Installation Guide but now you're stuck staring at a Windows error message, "Windows cannot be installed on this disk. The selected disk is of the GPT partition style."
So, now what?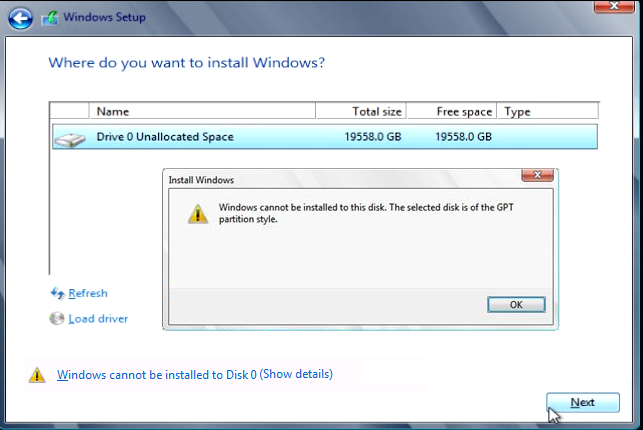 There are a plethora of articles on the internet aimed at solving this.
From using Disk Utility to delete and/or reformat the BOOTCAMP partition into ExFAT or destructive measures that require the formatting of your entire hard drive and reinstalling OS X and Boot Camp from scratch.
Whilst others require complicated risqué  Terminal commands.
Its almost goes without saying that for most of us we will not be particularly enthused with destructive fixes because it is not uncommon these days to have a minimum of a 1TB hard drive and even if its half full, it will still take about the average of half a day to back up and another half to restore it.
If you're fortunate the proposed solution worked. If not, you just wasted an entire day (or more) to format and restore your Mac back to the same frustrating situation you were in before.
What Causes This GPT Error?
Lets look at the most probable root cause of the problem.
You launch Boot Camp Assistant (BCA) and during the preparation phase where BCA creates a bootable USB version of your Windows 8/8.1 with Apple Boot Camp support drivers; it then eventually requires you to partition your existing hard drive.
One partition for your existing OS X and another for the incoming Windows 8/8.1.
Unbeknownst to you – this is where the problem starts.
You see, when BCA innocently partitions your hard drive to the inclusion of a new Windows "BOOTCAMP" partition, on the surface it appears to have formatted the BOOTCAMP partition into a FAT32 format in anticipation of the Windows.
Which is fine.
But what it also did (unfortunately) is inadvertently change the identification of your entire hard drive which was, for all intents and purposes a GPT disk into a Hybrid GPT/MBR disk.
"GPT? MBR?? What..?"
GPT = GUID Partition Table, MBR = Master Boot Record.
Click the links if you really must know more but to keep things simple generally since the emergence of Intel Macs, OS X has required a GPT partition to sit on to be bootable (older PowerPC Macs booted from Apple Partition Mapped disks).
To this end it can be said almost all Intel Macs running OS X start out with GPT formatted disks.
Reference: If you have ever had to format a hard drive using Disk Utility to install OS X you would probably be familiar with the following option window: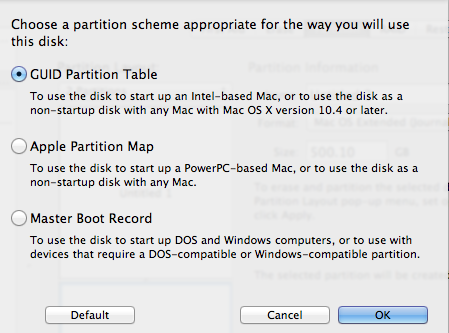 The BCA partitioning process which converts your hard drive into a Hybrid MBR disk, creates this GPT error because OS X sees the Hybrid GPT/MBR disk as GPT whilst Windows 8/8.1 sees it as MBR and refuses to proceed with the installation because Window 8/8.1 insists it must sit on a GPT disk.
Solution?
We need to 're-tag' the Hybrid GPT/MBR disk back to a GPT disk in order for Windows 8/8.1 be agreeable and compliant during the installation process.
Reverting Your Hybrid GPT/MBR Disk Back To a GPT Disk For Windows 8/8.1 Boot Camp Installation
Note: Whilst the following process is not destructive in nature we highly recommend you back up your data nonetheless to safeguard against any undesired results.
Boot into OS X
Download GPT fdisk utility (gdisk) from Sourceforge and install it
Launch Disk Utility (/Applications/Utilities/Disk Utility.app)
In the left pane select the

Hard Drive

(not Volume) which contains the OS X and BOOTCAMP partitions that BCA has created for you and click on the Disk Utility Info button (CMD+I)
In the Info window, note down the Disk Identifier value of your hard drive, e.g. in the example below the Disk Identifier is "disk0"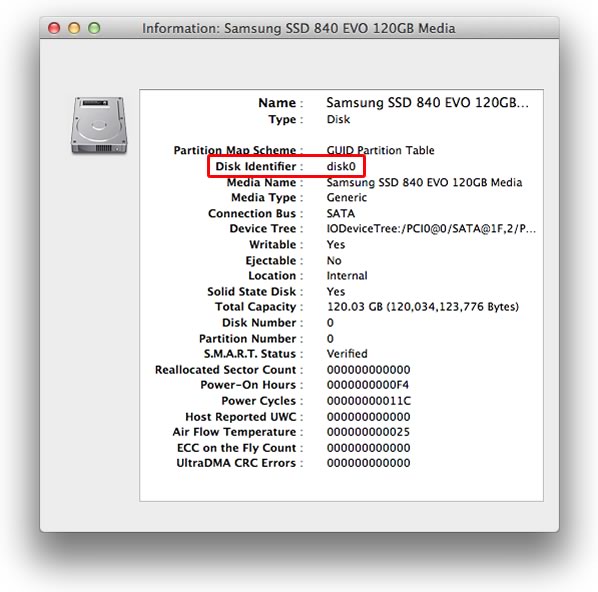 Launch Terminal (/Applications/Utilities/Terminal.app)
Launch gdisk in terminal by copying and pasting the following text into Terminal without the quotes, "sudo gdisk /dev/disk0", enter your system admin password when prompted
In our example our Disk Identifier is "disk0". Replace "disk0" with the corresponding Disk Identifier of your hard drive. For example, if your Disk Identifier is "disk1" then the appropriate Terminal command to launch gdisk would instead be "sudo gdisk /dev/disk1".
 Type "p" to view the partition table to confirm it is the correct hard drive you want to work on, if not type "q" to quit gdisk without making any changes and try again with another disk
Assuming you have the correct disk (i.e. entered the correct Disk Identifier to launch gdisk), type "x" to enter the experts menu
Type "n" to create a fresh protective MBR; note upon completion gdisk will not confirm a change or display any indication anything has been done, it will just show you another experts menu prompt
Type "w" to save the changes you have made, confirm this action when prompted to do so
Quit Terminal
Shutdown your Mac and unplug ALL other hard drives other than the hard drive you intend to install Windows 8/8.1 on. Also unplug all SSD cards or USB drives attached to your Mac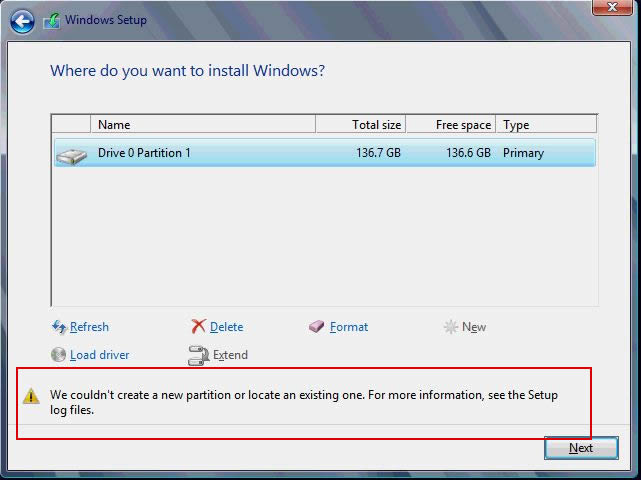 "We couldn't create a new partition or locate an existing one. For more information see the Setup log files."

Microsoft has piracy protections built into Windows 8/8.1 that prevents installation of Windows 8/8.1 on anything other than the primary boot disk/partition; if you do not unplug all other storage media during the Windows 8/8.1 the above error message will be displayed
Reboot your Mac whilst holding down the Option key and Boot into the "EFI Boot" disk to continue Windows 8/8.1 installation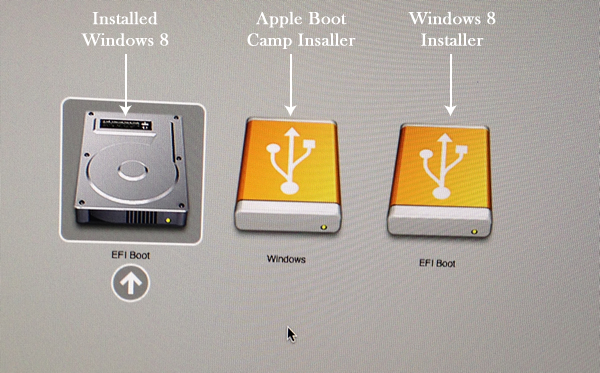 You will need to hit the Format button in the Windows Setup window to reformat the BOOTCAMP partition but this time no GPT error should result
Please leave a comment if you have discovered any other way around this nagging GPT issue but as far as we know this is the least destructive and surefire solution around the problem involving the least amount of effort and time.