macOS Catalina 10.15 introduces for the first time, Apple Inc's attempt at unhinging the various elements previously housed within iTunes as a single app. To facilitate this new separation of data managment, one of the key changes made was to move the control of USB syncing between macOS and iOS into the Finder instead of iTunes.
This has left Photos USB sync completely broken.
From the myriad reports of random photos being synced whilst others aren't or photos that weren't selected for sync are found synced onto the iOS device; Apple Inc has their hands full this time round.
The above complaints have been lingering since macOS Mojave when Photos USB Sync was still managed in iTunes and appears to have been migrated over to macOS Catalina along with the paradigm shift to using Finder as the USB sync manager.
However, if bringing over old bugs into the latest macOS isn't enough, Apple Inc has introduced a whole new one which at the time of writing still has no fix (macOS 10.15.3 still exhibits this bug).
Users are now experiencing Photos USB Sync failure when certain albums are selected for sync. In particular, Finder refuses to USB Sync any photos contained within a nested folder, i.e. a Photos folder which is contained within another folder:
Users will be able to select nested Photos folders for USB sync in Finder and the USB sync will appear to proceed without issue as there is no warning dialog box or any other form of indication that the nested Photos folders failed to sync to the iOS device.
Users will only realise the USB Sync failed when they do not find the selected photos in their iOS Photos app or when they relaunch Finder and review the Photos Sync setup page – the previously selected nested Photos folders will now be unchecked as though they were never selected previously.
The only workaround for now, is to launch Photos and move the nested Photos folders out of their root folder and place them at the root level directory. Then selecting them in Finder for USB Sync: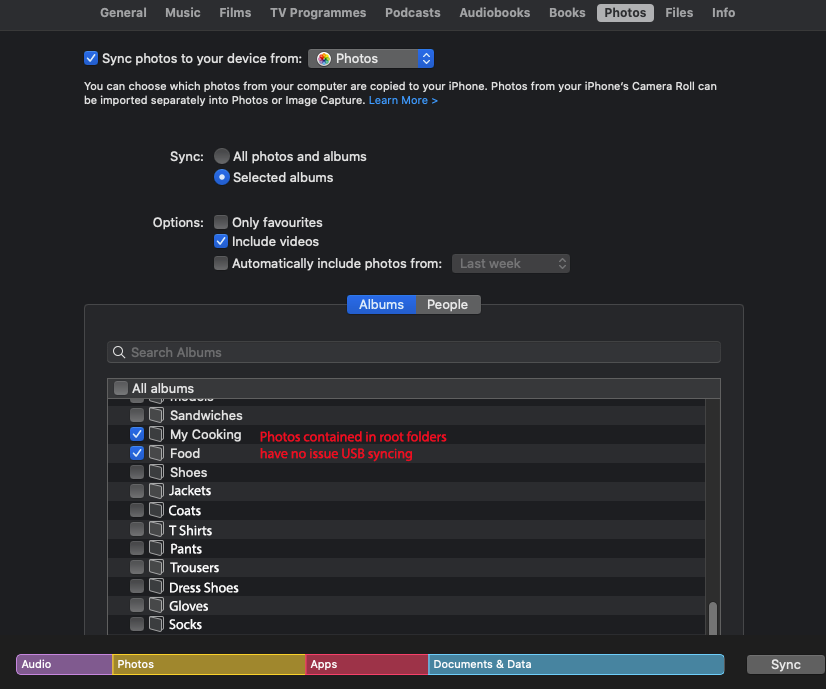 If this annoys you like it does the rest of us, please join us and send your feedback to Apple here.